We recognize that all our patients are unique and deserve to receive orthodontic care that reflects their individual needs. Our experienced and talented team is committed to working with you and your family to create a comfortable, stress-free, and rewarding orthodontic experience every time you visit our practice.
We are pleased to welcome you and your family, and we look forward to working with you.
Amy
Back Team Lead / Registered Dental Assistant
Morgan Orthodontics became my "home away from home" in 2009. I love changing people's lives by making them want to smile!
I began my career as a chairside assistant and grew into being the back team lead. I train all new assistants here and support our doctors with patient care. I also try to make everyone feel comfortable and welcome. We are like a big family and work so well together. This is the best place I have ever worked!
I married my high-school sweetheart Zachary on October 15, 2011. We have a son, Hunter, and a daughter, Jaylynn. We love to go camping and hunting as a family, spend time outdoors, and ride four-wheelers and UTVs. I also enjoy watching my son play baseball and basketball.
---
Courtnee
Patient Treatment Coordinator | Registered Dental Assistant
I have been with Morgan Orthodontics since 2017, having started in the dental field in 2013. It is a joy to get to know all of our patients as they start treatment and see their smiles and personality transform as they get their perfect smiles! It's an amazing experience to see people's confidence change from visit to visit!
I handle all new patient exams: taking the initial photos and X-rays and assisting the doctors. Then I present and review the treatment plan and walk the patient and family through financials. I like being part of a team and working with doctors who are warm, compassionate, and supportive of each other and our patient family.
I am fortunate to have married my high-school sweetheart. We have two children — a young son and daughter — and love taking our kids to the park and on other adventures. We attend The Avenue Church and have found a new love for traveling.
---
Danielle
Registered Dental Assistant
I started working in the field in 2015 and found my professional home and family at Morgan Orthodontics in 2017. I love working with all our patients and seeing their smiling faces!
I work in the clinic, where I assist the doctors with bonding and changing wires and colors. I also educate patients on oral hygiene and elastic wear. Everyone on our team is kind and good-natured: always building everyone up and sharing laughter.
I moved to Midlothian in 2015, am married, and have a teenage son, Elijah, as well as a pup, Fluffy. We love animals and nature, hiking the outdoors, and traveling to explore new places. At home, I love planting flowers and feeding the birds in my backyard.
---
Jennifer
Registered Dental Assistant
I joined the Morgan Orthodontics team in 2017, having started in the field in 2008. Seeing beautiful smiles, and getting to know our patients and their families, makes every day wonderful!
My days are spent in the clinic, where I assist the doctors with procedures, and support and educate our patients. Working alongside amazing people, and with incredible doctors, is rewarding: our office is full of smiles and laughter!
My husband Marcos and I have two children: daughter Jessi and son Marcos. We enjoy attending church together and traveling to explore new places. I also like reading and try to work out when I can find the time.
---
Katrina
Registered Dental Assistant
I have been in the dental field since 2001, am a registered dental assistant, and found my professional family at Morgan Orthodontics in 2014. I love being part of a team that helps each patient love their smile!
I assist our doctors with different procedures, including placing and removing braces, and offer patient care. I also teach patients about home oral hygiene and encourage them to keep their smile clean and healthy. I love working with Dr. Morgan, Dr. Trieu, and my teammates because everyone is confident, knowledgeable, approachable, and giving.
My husband and I have been married for more than 20 years and have two children who are young adults. One graduated from college in December 2018 and the other will graduate in December 2019. I love to attend church and enjoy watching basketball, especially the Dallas Mavericks.
---
Maria
Receptionist
I started working in the dental field in 2011 and was thrilled to join the Morgan Orthodontics practice in 2018. We have the most incredible patients who make my day brighter. I love seeing each of them become happier and more confident with a beautiful new smile!
I work at the front desk, where I schedule new patients, coordinate insurance, and handle accounts receivable. Our doctors are kind and skilled. They and the team balance fun and professionalism and really care about each other, our patients, and their families.
My two boys keep me busy with their many sports interests. When I can find the time, I love trying new foods, experimenting with recipes, and absolutely love to read anything and everything.
---
Monserhat
Registered Dental Assistant
I joined Morgan Orthodontics in 2018 and love helping people get the beautiful, straight smile they deserve. Many patients start treatment feeling self-conscious about their teeth. As they see their smile change, they become confident and their personality really comes out!
I assist the doctors with patient care: working chairside during procedures, and teach patients about oral hygiene. Our doctors are so caring and involved with our patients' lives and the community. Giving back is one thing everyone here loves to do and for that I am thankful.
I spend most of my free time with my young son Liam and our family. I love giraffes and cats, working out at the gym, and movie marathons. I also love anything that has to do with makeup and like to do special-effects makeup, especially for Halloween. I'm always up for new adventures, like traveling and trying new foods.
---
Rachel
Marketing Coordinator
I feel fortunate to have joined the Morgan Orthodontics team in 2018. I love meeting prospective new patients and introducing them to our practice and what we do. It's a joy to show people that our team can help them achieve the smile they've always wanted!
I coordinate all of our marketing efforts and interact with patients and staff to arrange our community give-back projects and sponsorships. I love working with this wonderful group of people who always encourage each other to be the best we can be. We are continually striving to better the orthodontic experience for our patients.
Originally from West Texas, I moved to Waxahachie in June 2018 after graduating from Texas Tech and marrying my best friend, Ross. I love cooking, working out, and traveling. In my free time, I enjoy working livestock, shooting photography, and promoting agriculture.
---
Samantha
Front Desk Manager | Team Lead| Registered Dental Assistant
I started in the dental field in 2008 and found my professional home at Morgan Orthodontics in 2010. Our patients and their families are wonderful people who bring a lot of energy and laughter to the office, and Dr. Morgan and Dr. Trieu give each person a beautiful smile!
I handle a range of administrative and organizational tasks to keep everything running smoothly. In addition to providing financial guidance, I am an account specialist, insurance coordinator, schedule administrator organizer, and patient specialist. I enjoy working alongside our team members and giving back to our community with our different volunteer projects.
My husband Bryan and I celebrated our 30th wedding anniversary in February 2019. We have two daughters: Kayla, who's a hair stylist, and Courtney, who's a nurse, along with one granddaughter and a second one joining us in April 2019. I live on the border of Maypearl and Waxahachie, where Bryan and I own Longhorns. I love spending time with family, traveling, shopping, and paying it forward.
---
Wintress
Registered Dental Assistant
I became a member of the Morgan Orthodontics team in 2014. My favorite part of my job is watching our patients' confidence increase as their teeth become straighter and getting to watch their reaction as they begin to love their smile.
I'm an RDA with experience in taking impressions, bonding brackets, taking X-rays, ordering appliances, using our iTero® digital scanner, and working with special appliances. My main focus is on creating a great experience for the patients and making them feel safe and relaxed in the chair.
I've been married to my husband Rusty for ten years and have a blended family with six kids and five grandkids. We operate a haunted house during the month of October and give a portion of our proceeds to a charity in the community. I enjoy traveling and cooking and will have some of my recipes published in a local magazine in the summer of 2019!
---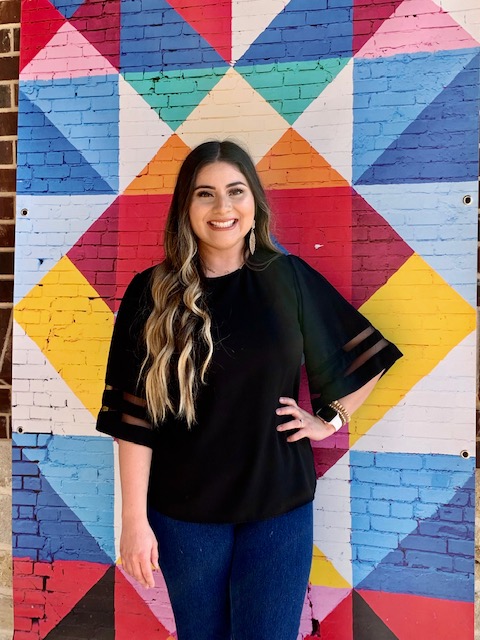 Yaneth
Front Desk
I was welcomed to Morgan Orthodontics in 2018, having started in the dental field in 2015. I like interacting with people every day and being part of a team that changes lives by changing smiles. Nothing beats seeing patients finish treatment with a sincerely happy and beautiful smile!
I work at the front desk: welcoming patients, scheduling appointments, and answering the phones. Dr. Morgan, Dr. Trieu, and my teammates make our office feel like a home. Though I'm a new team member, everyone has gone out of their way to make me welcome ... and they do the same with each and every patient!
I'm a small-town girl from Red Oak; happily married to my husband, Zachary, who works for Kennedale Fire Department. We have one beautiful, silly little girl, Madeline, who keeps us laughing. Most of my free time is spent with my family and friends. I also like traveling and watching "The Office."