We recognize that all our patients are unique and deserve to receive orthodontic care that reflects their individual needs. Our experienced and talented team is committed to working with you and your family to create a comfortable, stress-free, and rewarding orthodontic experience every time you visit our practice.
We are pleased to welcome you and your family, and we look forward to working with you.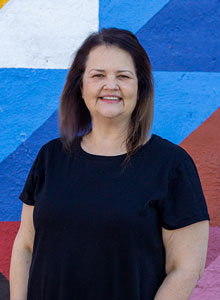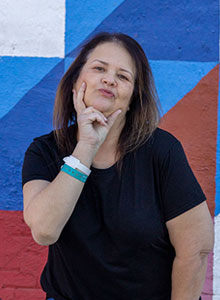 Samantha
Call Center | Registered Dental Assistant
I started in the dental field in 2008 and found my professional home at Morgan Orthodontics in 2010. Our patients and their families are wonderful people who bring a lot of energy and laughter to the office, and Dr. Morgan, Dr. Trieu and Dr. Mills give each person a beautiful smile!
I handle a range of administrative and organizational tasks to keep everything running smoothly. In addition to providing financial guidance, I am an account specialist, insurance coordinator, schedule administrator organizer, and patient specialist. I enjoy working alongside our team members and giving back to our community with our different volunteer projects.
My husband Bryan and I celebrated our 30th wedding anniversary in February 2019. We have two daughters: Kayla, who's a hair stylist, and Courtney, who's a nurse, along with two beautiful granddaughters.. I live on the border of Maypearl and Waxahachie, where Bryan and I own Longhorns. I love spending time with family, traveling, shopping, and paying it forward.
---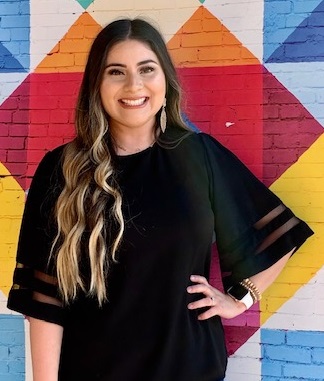 Yaneth
Concierge
I was welcomed to Morgan Orthodontics in 2018, having started in the dental field in 2015. I like interacting with people every day and being part of a team that changes lives by changing smiles. Nothing beats seeing patients finish treatment with a sincerely happy and beautiful smile!
I work at the front desk: welcoming patients, scheduling appointments, and answering the phones. Dr. Morgan, Dr. Trieu, Dr. Mills, and my teammates make our office feel like a home. Though I'm a new team member, everyone has gone out of their way to make me welcome ... and they do the same with each and every patient!
I'm a small-town girl from Red Oak; happily married to my husband, Zachary, who is a firefighter. We have one beautiful, silly little girl, Madeline, who keeps us laughing and our baby boy Leeland. Most of my free time is spent with my family and friends. I also like traveling and watching "The Office."
---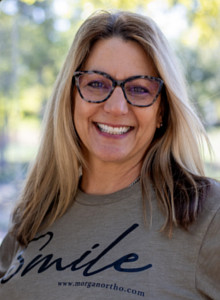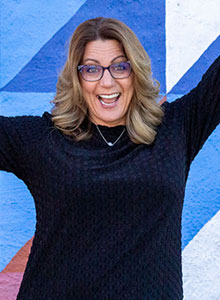 Lynn
Practice Administrator | Marketing Coordinator
I have been in the orthodontic field since 2008 and love being part of this amazing Morgan Ortho team. I love getting out to visit all the dental offices, meeting new people and sharing what our office has to offer to everyone. I coordinate all of our marketing efforts and interact with patients and staff to arrange our community give-back projects and sponsorships. I love working with this incredible team who always encourage each other to be the best we can be.
I have been married to my husband Steve for 35 years. We have 3 adult children and our first grand baby Braxten. I love spending time outside working in my yard, talking walks and just relaxing by the pool.
---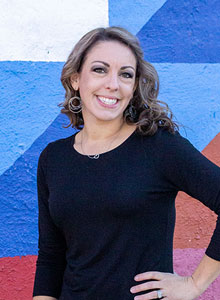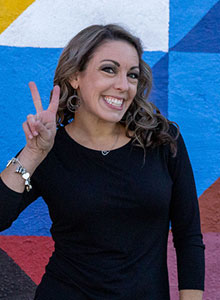 Amy
Treatment Coordinator / Registered Dental Assistant
Morgan Orthodontics became my "home away from home" in 2009. I love changing people's lives by making them want to smile!
I began my career as a chairside assistant and grew into being the back team lead. I train all new assistants here and support our doctors with patient care. I also try to make everyone feel comfortable and welcome. We are like a big family and work so well together. This is the best place I have ever worked!
I married my high-school sweetheart Zachary on October 15, 2011. We have a son, Hunter, and a daughter, Jaylynn. We love to go camping and hunting as a family, spend time outdoors, and ride four-wheelers and UTVs. I also enjoy watching my son play baseball and basketball.
---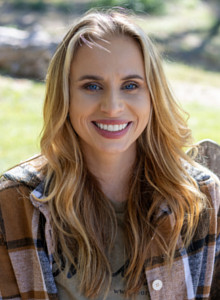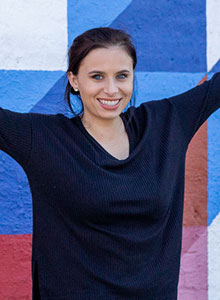 Ashley
Registered Dental Assistant
I recently became a member of the Morgan Orthodontics team, and I feel so fortunate to be here! Everyone works together for an amazing purpose—helping others be confident and feel good about themselves and their smile!
I assist Dr. Morgan, Dr. Trieu and Dr. Mills with patient care, mostly with placing braces. It gives me a great vantage point to see firsthand how excited the patients are when they see how much their smile has changed!
I'm 27 years old and a Waxahachie High School alumnus. I have a daughter and a son, and I enjoy spending my free time taking them to do fun things!
---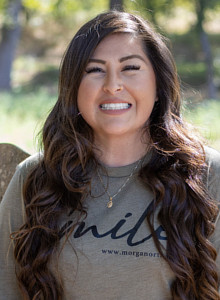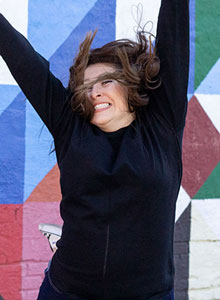 Jenny
Registered Dental Assistant
I have been in the dental field for over 7 years.
Currently I live in Mansfield TX with my fiancé and 3 children, Anthony, Gabe and Elaina.
I love watching the cowboys, my kids playing sports and spending time with family and friends.
I so enjoy working here at goMO!
---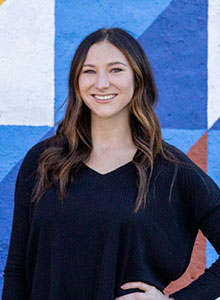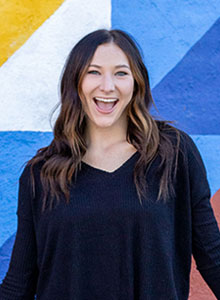 Rileigh
Registered Dental Assistant
I have been in the dental field for over 2 years.
Currently I live in Ennis TX with my husband and 2 dogs.
I enjoy walking my dogs and trying new recipes with my husband.
Looking forward to meeting you all!
---
Sara
Registered Dental Assistant
More about Sara is coming soon!
---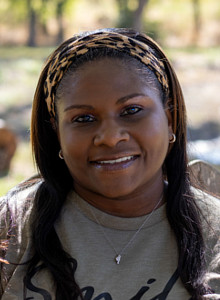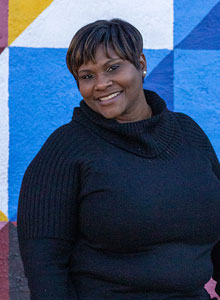 Katrina
Registered Dental Assistant
I have been in the dental field since 2001, am a registered dental assistant, and found my professional family at Morgan Orthodontics in 2014. I love being part of a team that helps each patient love their smile!
I assist our doctors with different procedures, including placing and removing braces, and offer patient care. I also teach patients about home oral hygiene and encourage them to keep their smile clean and healthy. I love working with Dr. Morgan, Dr. Trieu, Dr. Mills, and my teammates because everyone is confident, knowledgeable, approachable, and giving.
My husband and I have been married for more than 20 years and have two children who are young adults. One graduated from college in December 2018 and the other graduated in December 2019. I love to attend church and enjoy watching basketball, especially the Dallas Mavericks.
---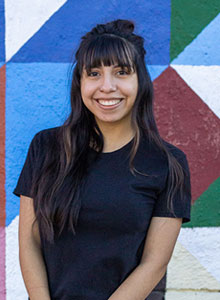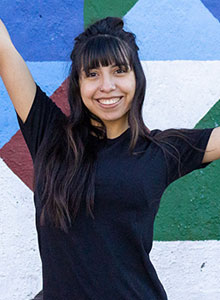 Monserhat
Registered Dental Assistant
I joined Morgan Orthodontics in 2018 and love helping people get the beautiful, straight smile they deserve. Many patients start treatment feeling self-conscious about their teeth. As they see their smile change, they become confident and their personality really comes out!
I assist the doctors with patient care: working chairside during procedures, and teach patients about oral hygiene. Our doctors are so caring and involved with our patients' lives and the community. Giving back is one thing everyone here loves to do and for that I am thankful.
I spend most of my free time with my young son Liam, daughter Katia and our family. I love giraffes and cats, working out at the gym, and movie marathons. I also love anything that has to do with makeup and like to do special-effects makeup, especially for Halloween. I'm always up for new adventures, like traveling and trying new foods.
---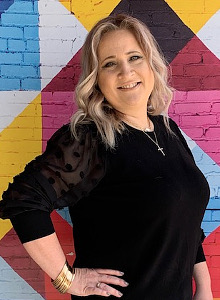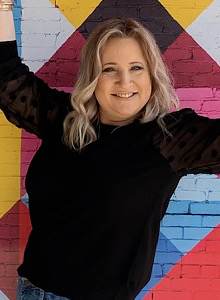 Winter
Team Member
More about Winter is coming soon!
---